I'm constantly surprised, it seems these days, at the amount of research that writers go through before they even pick up a pen stylus mouse. It makes sense. I mean, even when setting a story in the real world a writer has to look at things like street names, local history & businesses, and the culture of the area's inhabitants. This list of required reading grows longer than Yao Ming when a writer has to craft entire new worlds, with their own unique sciences, magic systems, mythologies...it's just mind-bogglingly difficult. Almost as difficult is figuring out how to actually spell "mind-bogglingly".
The best writers can structure their worlds so well, they almost feel tangible. Like they're just a wardrobe or rabbit-hole away. And sometimes, the writers weave so well, they actually predict the future.
I've talked before about how the driving anime eX-Driver is actually predicting the rise and state of technology of autnomous vehicles fairly accurately.

And today, my pet theory just got that little bit stronger.

The Drive posted a story about another Tesla that had its Autopilot malfunction. While the real cause of the first malfunction is still kind of up in the air, this one was a lot more obvious.
The Autopilot function receives data from a radar transmitter, like a lot of the newer self-driving systems. And, just like any other transmitter or sensor, if it gets damaged or obstructed, the main computer goes "WTF's goin' on?!" and warns the driver to take control as the self-driving software turns off. Which is exactly what happened in this case: a moth went splat into the transmitter, the car's computers went into panic mode and alerted the driver to grab the wheel. So, the Autopilot feature stopped working, but it did so exactly as planned.
Thing is, tampering a self-driving car's radar and other road-reading sensors to slow it down isn't exactly a new thing. It's just that nothing as improvised as a moth has been used as an obstruction. But if you want to talk to the experts at slowing down runaway AI cars, here they are: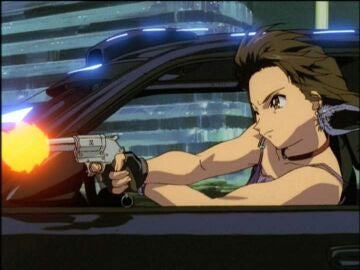 Yup, the eX-Driver team! And those guns aren't just for show. No, the setting isn't LA or Detroit, so they aren't shooting bullets.
Those guns shoot a sticky goo that covers up the car's radar sensors. Shoot out all four, and the runaway car goes all Emergency Stop. Not quite as organic as a moth, but a lot more controllable.
Once again anime is predicting the future. And once again, I cannot wait to get a giant robot.